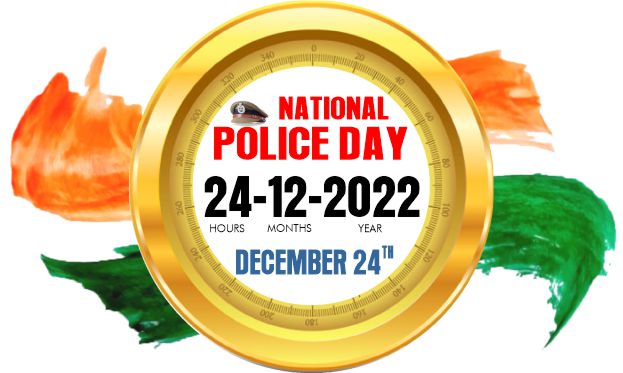 The world celebrates a number of special days – Mother's day, Valentine's day, Children's day, College day, Bus day, Teacher's day , Fathers day and many more such days the list is long. Valentine's (Lovers Day) a day is marked, for men and a women who fall in Romance (or) love for their own selfishness and that day is celebrated as Valentine's day (Lover's Day). At a time when we identify and celebrate many such days, our policemen work round the clock, for the people and the country.
Every day on patrol duty, Every corner of the country with uniform, badge and carry out their sworn duty to protect and serve. They step out the door every morning without considering bravery or heroics. They stay focused on meeting their responsibilities. And with quiet courage, they help fulfill the demanding yet vital task of shielding our people from harm. police officers work that deserves our deepest respect — because when darkness and danger would threaten the peace, our police officers are there to step in, ready to lay down their lives to protect our own.
In order to remember these police officers for their sacrifices, as an example for this, there are many police investigators who died recently. From the year 1959 October 21, every year we treat this day as Sacrifice day (Commemorate Day) for the policemen who hardships & struggle for people and country and for those policemen who have given their lives for the People & country. What we need to think about is, This Sacrifice day cannot be celebrated. Only with morning mood not with the joyous mood.
They do not take leave on festival days or holidays. When we (people) are sleeping in the night with our families, police men are on patrol duty, away from their families considering our security. On special days like festivals when we cook delicious food at home, sit with our families and enjoy it, our policemen will be out there in the burning in the lashing sun or rains doing their duties considering our safety. They don't even get food to eat at the right time. Even on ordinary days when they are enquiring about complains that come to the station, there is a high level of recommendation pressure from higher officials, politicians, ruling party, opposite party, caste based parties for both side of the complainants. We should give a thought about how the mental state of the police investigators, officers and policemen is affected, in such situations.
To remember the police officers achievements & performance, 24-12-2022 should be celebrated to encourage the Policemen & Police women and to make them happy. Every year throughout the country every 24th December 12th month should be celebrated as Police Day and this day bouquets, sweets and mementos are given to policemen on behalf of the public to encourage and honor them for their sacrifices, service, and sense of duty, to express your gratitude to Police officers display the wishing and thanking Police posters paste on your homes and business places on that day, how rejuvenating it will be for them and their families mentally!
Police Day Concept
They are providing security for us 24 hours all the 12 months. Hence, we have selected 24th of the 12th month which is December month. Moreover, the sum of the digits of the year 2014 is (2+0+1+4=7) seven. This also indicates that they are in the safe guarding duty all the seven days of the week. So, 24-12-2014 has been selected as the apt day for Police day. Police never sleeps. 24 hours Police station is open. 12 months Police Station is open, police works( round the clock) 7 days Police station is open. police gives non-stop service.
When we the public, encourage and honour the policemen on the Police Day, the difficulties that they undergo for the sake of the public will be turned in to happiness and pleasure. Encourage them with words of praise and gratitude, then Police Day could become a Joyous Day.
The public should be the ones who celebrate Police Day.
In any part of our country, if there are four roads together they name it as a area. Each area has a residents, The residents of that area join together to form a residents welfare association to address their civic amenity issues & solve their Law & order problems in that area. They solve their problems and get their needs fulfilled by giving petitions to the right officers.
The police station, under whose limits these associations fall, plays an important role in such issues. Thus, the residents of the locality are the most apt persons to celebrate Police Day at the local police stations.
To solve these problems, the police station within the limits of that area plays a pivotal role. In this way, nobody else other than the public in that area can celebrate Police Day in a better way. Local residents are the most apt persons to celebrate Police Day at the Local Police Station.
So, Why don't we start this good work from India. When it is Indians everywhere and in everything, let him be the leader in declaring and celebrating International Police Day, Police week, Police month as well. If all the people who live in areas which come under the jurisdiction of a certain police station join together to decorate the police station of their area and distribute sweets, mementos to the policemen and arrange a felicitation function, wouldn't it be a way to show our gratitude in a small way to the services that they render to us and our nation.
Respected friends..! If you are the public belonging to any part of Tamilnadu & other states who come forward to celebrate police Day for the first time, we are waiting  and glad to guide you to do all sort of help happily on behalf of Police News Plus  Digital News and  Newsmedia Association Of India.
Beloved people…when you read this please do not think ,"Why should we celebrate Police Day? They are after all doing only their duties." Everybody who is alive has got duties according to their life stage. But the duty of policemen is completely different. The duty that is performed staking your own life, without proper food and sleep is completely different.
If the police are portrayed in a wrong manner in the movies, many of us clap hands. Why don't we join together to arrange for a felicitation function and appreciate them on the stage, and clap more fervently.
On behalf of News media association of India press media club, on this pleasant day 24.12.2022 let us express our love & gratitude to the Police on 24.12.2022 !
To our Beloved policemen!